About Us
Lime Tandoori is a Indian takeaway in Hull. Why don't you try our Onion Bhaji or Masala?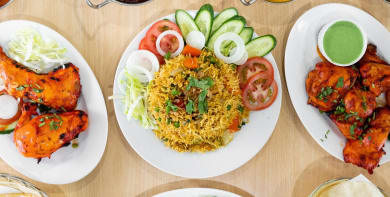 Reviews
378 reviews
Craig
"Had food from Lime Tandoori on numerous occasions and never failed to disappoint and always reliable whether it's delivery or collection"
01/06/2020
Jack
"First time using lime tandoori, exceptional food and came on time. First time and will not be the last time using this restaurant"
30/05/2020
joanne
"Love the restaurant so while we can't get in decided to order takeaway was lovely and will defo order again!"
29/05/2020
Lewis
"Food fantastic as always"
29/05/2020
Menu
Garlic Rogan Josh (Browned Onions)
Vindaloo Chicken Tikka
Hot
£6.90
Dopiaza Chicken Tikka
Medium
£6.90
Dopiaza Lamb Tikka
Medium
£7.10
Dopiaza Mixed Tikka
Medium
£7.10
Dopiaza King Prawn
Medium
£9.10
Curry Chicken Tikka
Medium
£6.90
Bhuna Chicken Tikka
Medium
£6.90
Dansak Chicken
Fairly hot
£6.80
Dansak Chicken Tikka
Fairly hot
£6.90
Dansak Lamb Tikka
Fairly hot
£7.10
Dansak Vegetable
Fairly hot
£5.80
Dansak Mixed Tikka
Fairly hot
£7.10
Dansak King Prawn
Fairly hot
£9.10
Madras Chicken
Fairly hot
£6.80
Madras Chicken Tikka
Fairly hot
£6.90
Madras Lamb Tikka
Fairly hot
£7.10
Madras Vegetable
Fairly hot
£5.80
Madras Mixed Tikka
Fairly hot
£7.10
Madras King Prawn
Fairly hot
£9.10
Rogan Josh Chicken
Medium
£6.80
Rogan Josh Chicken Tikka
Medium
£6.90
Rogan Josh Lamb Tikka
Medium
£7.10
Rogan Josh Vegetable
Medium
£5.80
Rogan Josh Mixed Tikka
Medium
£7.10
Rogan Josh King Prawn
Medium
£9.10
Pathia Chicken
Fairly hot
£6.80
Pathia Chicken Tikka
Fairly hot
£6.90
Pathia Lamb Tikka
Fairly hot
£7.10
Pathia Vegetable
Fairly hot
£5.80
Pathia Mixed Tikka
Fairly hot
£7.10
Pathia King Prawn
Fairly hot
£9.10
Biryani Lamb Tikka
Medium
£7.60
Biryani House Special Mix
Medium
£9.10
Biryani Chicken Tikka
Medium
£7.60
Biryani King Prawn
Medium
£10.60
Biryani Tandoori Mix
Medium
£9.95
Pickled Tray & Four Poppadoms
Gluten
£3.20
Special Shatkora Chicken
Medium
£7.50
Special Shatkora Chicken Tikka
Medium
£7.50
Special Shatkora Lamb Tikka
Medium
£7.50
Special Shatkora Beef
Medium
£7.50
Special Shatkora Prawn
Medium
£7.50
Special Shatkora Mixed Tikka
Medium
£9.20
Special Shatkora King Prawn
Medium
£9.20
Special Shatkora Vegetable
Medium
£6.90
Tanghi Masala Chicken
Medium
£7.10
Tanghi Masala Lamb Tikka
Medium
£7.50
Tanghi Masala Chicken Tikka
Medium
£7.50
Tanghi Masala Beef
Medium
£7.50
Tanghi Masala Mixed Tikka
Medium
£7.70
Tanghi Masala Prawn
Medium
£7.70
Tanghi Masala King Prawn
Medium
£9.10
Tanghi Masala Vegetable
Medium
£6.90
Shashlik Korai Chicken Tikka
Medium
£8.10
Shashlik Korai Lamb Tikka
Medium
£8.15
Shashlik Korai Mixed Tikka
Medium
£8.95
Shashlik Korai King Prawn
Medium
£10.95
Shashlik Korai Tandoori Chicken (on the bone)
Medium
£9.20
Chicken Hyderabadi
Slices of chicken tikka breast cooked with spring onions, natural yoghurt, tandoori & Hyderabadi spices creating a tangy, tantalising dish
Medium
Gluten
Dairy
£7.95
Tikka Naga
A mouthwatering Northern Bengal favourite, using its own unique Naga (mixed chillies) with an added kick from the use of crushed peppered chillies. Very hot, sizzling dish, not for the faint hearted
Hot
Gluten
£7.95
Tandoori Supreme
A combination of chicken & lamb tikka cooked with spring onions, peppers slowly relished in a spicy masala sauce
Fairly hot
Dairy
£7.95
Balti Masala
Chicken tikka stir fried in the pan then cooked with cream & coconut, with a slight touch of balti relish
Medium
Dairy
£7.95
Akbori Masala Chicken
Chicken OR lamb marinated, grilled then garnished with spicy mince meat on top
Medium
Dairy
£7.95
Akbori Masala Lamb
Chicken OR lamb marinated, grilled then garnished with spicy mince meat on top
Medium
Dairy
£7.95
Balti Korai
Chicken tikka using tomatoes, onion & green peppers, then pan fried with garlic & a slight touch of balti relish
Medium
£7.95
Spiced Special Curry
Supreme breast of chicken tikka cooked with onions, green peppers, minced kofta balls, eggs, coriander, fenugreek & medium spices
Fairly hot
£8.10
Balti Jalfrezi
Chicken tikka spicy dish cooked with spring onion, peppers & green chillies, then pan fried with a touch of balti
Fairly hot
£8.10
House Mixed Special
Consists of chicken, beef, prawn & mushrooms with finely ground herbs & spices
Medium
£8.10
Korai Mixed Grill
A well flavoured dish, cooked with a tandoori chicken, chicken tikka, lamb tikka, seekh kebab, onions, green peppers & relished with garlic
Medium
£8.10
Oriental Mixed
Here is the characteristic dish which is derived from onions, light garam masala & cooked with tandoori chicken, chicken tikka, lamb tikka, seekh kebab. Its cooked in a manner which produces an oriental flavour
Well recommended
Medium
£8.10
Masala Chicken
Marinated overnight & barbecued over charcoal, cooked with almonds, coconut, fresh cream, yoghurt & light spices
Mild
Dairy
£6.80
Masala Chicken Tikka
Marinated overnight & barbecued over charcoal, cooked with almonds, coconut, fresh cream, yoghurt & light spices
Mild
Dairy
£6.90
Masala Lamb Tikka
Marinated overnight & barbecued over charcoal, cooked with almonds, coconut, fresh cream, yoghurt & light spices
Mild
Dairy
£7.10
Masala Beef
Marinated overnight & barbecued over charcoal, cooked with almonds, coconut, fresh cream, yoghurt & light spices
Mild
Dairy
£6.90
Masala Prawn
Marinated overnight & barbecued over charcoal, cooked with almonds, coconut, fresh cream, yoghurt & light spices
Mild
Dairy
£6.90
Masala Vegetable
Marinated overnight & barbecued over charcoal, cooked with almonds, coconut, fresh cream, yoghurt & light spices
Mild
Dairy
£5.80
Masala Mixed Tikka
Marinated overnight & barbecued over charcoal, cooked with almonds, coconut, fresh cream, yoghurt & light spices
Mild
Dairy
£7.10
Masala King Prawn
Marinated overnight & barbecued over charcoal, cooked with almonds, coconut, fresh cream, yoghurt & light spices
Mild
Dairy
£9.10
Pasanda Chicken
Popular dish cooked with ground almonds, yoghurt & mild spices creating a nutritious dish dressed with salted peanuts
Mild
Dairy
Nuts
£6.80
Pasanda Chicken Tikka
Popular dish cooked with ground almonds, yoghurt & mild spices creating a nutritious dish dressed with salted peanuts
Mild
Dairy
Nuts
£6.90
Pasanda Lamb Tikka
Popular dish cooked with ground almonds, yoghurt & mild spices creating a nutritious dish dressed with salted peanuts
Mild
Dairy
Nuts
£7.10
Pasanda Beef
Popular dish cooked with ground almonds, yoghurt & mild spices creating a nutritious dish dressed with salted peanuts
Mild
Dairy
Nuts
£6.90
Pasanda Prawn
Popular dish cooked with ground almonds, yoghurt & mild spices creating a nutritious dish dressed with salted peanuts
Mild
Dairy
Nuts
£6.90
Pasanda Vegetable
Popular dish cooked with ground almonds, yoghurt & mild spices creating a nutritious dish dressed with salted peanuts
Mild
Dairy
Nuts
£5.80
Pasanda Mixed Tikka
Popular dish cooked with ground almonds, yoghurt & mild spices creating a nutritious dish dressed with salted peanuts
Mild
Dairy
Nuts
£7.10
Pasanda King Prawn
Popular dish cooked with ground almonds, yoghurt & mild spices creating a nutritious dish dressed with salted peanuts
Mild
Dairy
Nuts
£9.10
Shanaz Chicken
Infusion of garlic ghee, finely sliced parsley, coriander, coconut & cream
Recommended
Mild
Dairy
£6.80
Shanaz Chicken Tikka
Infusion of garlic ghee, finely sliced parsley, coriander, coconut & cream
Recommended
Mild
Dairy
£6.90
Shanaz Lamb Tikka
Infusion of garlic ghee, finely sliced parsley, coriander, coconut & cream
Recommended
Mild
Dairy
£7.10
Shanaz Beef
Infusion of garlic ghee, finely sliced parsley, coriander, coconut & cream
Recommended
Mild
Dairy
£6.90
Shanaz Prawn
Infusion of garlic ghee, finely sliced parsley, coriander, coconut & cream
Recommended
Mild
Dairy
£6.90
Shanaz Vegetable
Infusion of garlic ghee, finely sliced parsley, coriander, coconut & cream
Recommended
Mild
Dairy
£5.80
Shanaz Mixed Tikka
Infusion of garlic ghee, finely sliced parsley, coriander, coconut & cream
Recommended
Mild
Dairy
£7.10
Shanaz King Prawn
Infusion of garlic ghee, finely sliced parsley, coriander, coconut & cream
Recommended
Mild
Dairy
£9.10
Shah Amdi Chicken
Derived from the use of luscious mango, coconut, cream & a touch of marinated yoghurt. Dressed with salted peanuts
Mild
Dairy
Nuts
£6.80
Shah Amdi Chicken Tikka
Derived from the use of luscious mango, coconut, cream & a touch of marinated yoghurt. Dressed with salted peanuts
Mild
Dairy
Nuts
£6.90
Shah Amdi Lamb Tikka
Derived from the use of luscious mango, coconut, cream & a touch of marinated yoghurt. Dressed with salted peanuts
Mild
Dairy
Nuts
£7.10
Shah Amdi Beef
Derived from the use of luscious mango, coconut, cream & a touch of marinated yoghurt. Dressed with salted peanuts
Mild
Dairy
Nuts
£6.90
Shah Amdi Prawn
Derived from the use of luscious mango, coconut, cream & a touch of marinated yoghurt. Dressed with salted peanuts
Mild
Dairy
Nuts
£6.90
Shah Amdi Vegetable
Derived from the use of luscious mango, coconut, cream & a touch of marinated yoghurt. Dressed with salted peanuts
Mild
Dairy
Nuts
£5.80
Shah Amdi Mixed Tikka
Derived from the use of luscious mango, coconut, cream & a touch of marinated yoghurt. Dressed with salted peanuts
Mild
Dairy
Nuts
£7.10
Shah Amdi King Prawn
Derived from the use of luscious mango, coconut, cream & a touch of marinated yoghurt. Dressed with salted peanuts
Mild
Dairy
Nuts
£9.10
Garlic Masala Chicken
Very similar to masala using diced garlic & fried to be cooked with coconut, almonds, cream yoghurt & light spices
Mild
Dairy
£6.80
Garlic Masala Chicken Tikka
Very similar to masala using diced garlic & fried to be cooked with coconut, almonds, cream yoghurt & light spices
Mild
Dairy
£6.90
Garlic Masala Lamb Tikka
Very similar to masala using diced garlic & fried to be cooked with coconut, almonds, cream yoghurt & light spices
Mild
Dairy
£7.10
Garlic Masala Beef
Very similar to masala using diced garlic & fried to be cooked with coconut, almonds, cream yoghurt & light spices
Mild
Dairy
£6.90
Garlic Masala Prawn
Very similar to masala using diced garlic & fried to be cooked with coconut, almonds, cream yoghurt & light spices
Mild
Dairy
£6.90
Garlic Masala Vegetable
Very similar to masala using diced garlic & fried to be cooked with coconut, almonds, cream yoghurt & light spices
Mild
Dairy
£5.80
Garlic Masala Mixed Tikka
Very similar to masala using diced garlic & fried to be cooked with coconut, almonds, cream yoghurt & light spices
Mild
Dairy
£7.10
Garlic Masala King Prawn
Very similar to masala using diced garlic & fried to be cooked with coconut, almonds, cream yoghurt & light spices
Mild
Dairy
£9.10
Garlic Rogan Josh (Browned Onions) Chicken
Cooked with deep pan fried garlic based on browned onions, yoghurt, garlic, ginger & aromatic spices (cloves, bay leaves)
Medium
Dairy
£6.80
Garlic Rogan Josh (Browned Onions) Chicken Tikka
Cooked with deep pan fried garlic based on browned onions, yoghurt, garlic, ginger & aromatic spices (cloves, bay leaves)
Medium
Dairy
£6.90
Garlic Rogan Josh (Browned Onions) Lamb Tikka
Cooked with deep pan fried garlic based on browned onions, yoghurt, garlic, ginger & aromatic spices (cloves, bay leaves)
Medium
Dairy
£7.10
Garlic Rogan Josh (Browned Onions) Beef
Cooked with deep pan fried garlic based on browned onions, yoghurt, garlic, ginger & aromatic spices (cloves, bay leaves)
Medium
Dairy
£6.90
Garlic Rogan Josh (Browned Onions) Prawn
Cooked with deep pan fried garlic based on browned onions, yoghurt, garlic, ginger & aromatic spices (cloves, bay leaves)
Medium
Dairy
£6.90
Garlic Rogan Josh (Browned Onions) Vegetable
Cooked with deep pan fried garlic based on browned onions, yoghurt, garlic, ginger & aromatic spices (cloves, bay leaves)
Medium
Dairy
£5.80
Garlic Rogan Josh (Browned Onions) Mixed Tikka
Cooked with deep pan fried garlic based on browned onions, yoghurt, garlic, ginger & aromatic spices (cloves, bay leaves)
Medium
Dairy
£7.10
Garlic Rogan Josh (Browned Onions) King Prawn
Cooked with deep pan fried garlic based on browned onions, yoghurt, garlic, ginger & aromatic spices (cloves, bay leaves)
Medium
Dairy
£9.10
Garlic Rogan Josh (Shallots) Chicken
Cooked with deep pan fried garlic based on shallots, yoghurt, garlic, ginger & aromatic spices (cloves, bay leaves)
Medium
Dairy
£6.80
Garlic Rogan Josh (Shallots) Chicken Tikka
Cooked with deep pan fried garlic based on shallots, yoghurt, garlic, ginger & aromatic spices (cloves, bay leaves)
Medium
Dairy
£6.90
Garlic Rogan Josh (Shallots) Lamb Tikka
Cooked with deep pan fried garlic based on shallots, yoghurt, garlic, ginger & aromatic spices (cloves, bay leaves)
Medium
Dairy
£7.10
Garlic Rogan Josh (Shallots) Beef
Cooked with deep pan fried garlic based on shallots, yoghurt, garlic, ginger & aromatic spices (cloves, bay leaves)
Medium
Dairy
£6.90
Garlic Rogan Josh (Shallots) Prawn
Cooked with deep pan fried garlic based on shallots, yoghurt, garlic, ginger & aromatic spices (cloves, bay leaves)
Medium
Dairy
£6.90
Garlic Rogan Josh (Shallots) Vegetable
Cooked with deep pan fried garlic based on shallots, yoghurt, garlic, ginger & aromatic spices (cloves, bay leaves)
Medium
Dairy
£5.80
Garlic Rogan Josh (Shallots) Mixed Tikka
Cooked with deep pan fried garlic based on shallots, yoghurt, garlic, ginger & aromatic spices (cloves, bay leaves)
Medium
Dairy
£7.10
Garlic Rogan Josh (Shallots) King Prawn
Cooked with deep pan fried garlic based on shallots, yoghurt, garlic, ginger & aromatic spices (cloves, bay leaves)
Medium
Dairy
£9.10
Korai Chicken
Slightly spiced using tomatoes, onions, green peppers, dhanyia, fenugreek & relished with garlic
Medium
£6.80
Korai Chicken Tikka
Slightly spiced using tomatoes, onions, green peppers, dhanyia, fenugreek & relished with garlic
Medium
£6.90
Korai Lamb Tikka
Slightly spiced using tomatoes, onions, green peppers, dhanyia, fenugreek & relished with garlic
Medium
£7.10
Korai Beef
Slightly spiced using tomatoes, onions, green peppers, dhanyia, fenugreek & relished with garlic
Medium
£6.90
Korai Prawn
Slightly spiced using tomatoes, onions, green peppers, dhanyia, fenugreek & relished with garlic
Medium
£6.90
Korai Vegetable
Slightly spiced using tomatoes, onions, green peppers, dhanyia, fenugreek & relished with garlic
Medium
£5.80
Korai Mixed Tikka
Slightly spiced using tomatoes, onions, green peppers, dhanyia, fenugreek & relished with garlic
Medium
£7.10
Korai King Prawn
Slightly spiced using tomatoes, onions, green peppers, dhanyia, fenugreek & relished with garlic
Medium
£9.10
Rasoon Chicken
Bhuna style dish with crushed cloves of garlic, yoghurt & tandoori sauce
Medium
Dairy
£6.80
Rasoon Chicken Tikka
Bhuna style dish with crushed cloves of garlic, yoghurt & tandoori sauce
Medium
Dairy
£6.90
Rasoon Lamb Tikka
Bhuna style dish with crushed cloves of garlic, yoghurt & tandoori sauce
Medium
Dairy
£7.10
Rasoon Beef
Bhuna style dish with crushed cloves of garlic, yoghurt & tandoori sauce
Medium
Dairy
£6.90
Rasoon Prawn
Bhuna style dish with crushed cloves of garlic, yoghurt & tandoori sauce
Medium
Dairy
£6.90
Rasoon Vegetable
Bhuna style dish with crushed cloves of garlic, yoghurt & tandoori sauce
Medium
Dairy
£5.80
Rasoon Mixed Tikka
Bhuna style dish with crushed cloves of garlic, yoghurt & tandoori sauce
Medium
Dairy
£7.10
Rasoon King Prawn
Bhuna style dish with crushed cloves of garlic, yoghurt & tandoori sauce
Medium
Dairy
£9.10
Jalfrezi Chicken
A fairly hot & spicy dish, cooked with diced onions, peppers, chillies & coriander
Fairly hot
Dairy
£6.80
Jalfrezi Chicken Tikka
A fairly hot & spicy dish, cooked with diced onions, peppers, chillies & coriander
Fairly hot
Dairy
£6.90
Jalfrezi Lamb Tikka
A fairly hot & spicy dish, cooked with diced onions, peppers, chillies & coriander
Fairly hot
Dairy
£7.10
Jalfrezi Beef
A fairly hot & spicy dish, cooked with diced onions, peppers, chillies & coriander
Fairly hot
Dairy
£6.90
Jalfrezi Prawn
A fairly hot & spicy dish, cooked with diced onions, peppers, chillies & coriander
Fairly hot
Dairy
£6.90
Jalfrezi Vegetable
A fairly hot & spicy dish, cooked with diced onions, peppers, chillies & coriander
Fairly hot
Dairy
£5.80
Jalfrezi Mixed Tikka
A fairly hot & spicy dish, cooked with diced onions, peppers, chillies & coriander
Fairly hot
Dairy
£7.10
Jalfrezi King Prawn
A fairly hot & spicy dish, cooked with diced onions, peppers, chillies & coriander
Fairly hot
Dairy
£9.10
Garlic Chilli Korai Chicken
Fairly hot, cooked with whole green chilli, garlic & coriander
Fairly hot
£6.80
Garlic Chilli Korai Chicken Tikka
Fairly hot, cooked with whole green chilli, garlic & coriander
Fairly hot
£6.90
Garlic Chilli Korai Lamb Tikka
Fairly hot, cooked with whole green chilli, garlic & coriander
Fairly hot
£7.10
Garlic Chilli Korai Beef
Fairly hot, cooked with whole green chilli, garlic & coriander
Fairly hot
£6.90
Garlic Chilli Korai Prawn
Fairly hot, cooked with whole green chilli, garlic & coriander
Fairly hot
£6.90
Garlic Chilli Korai Vegetable
Fairly hot, cooked with whole green chilli, garlic & coriander
Fairly hot
£5.80
Garlic Chilli Korai Mixed Tikka
Fairly hot, cooked with whole green chilli, garlic & coriander
Fairly hot
£7.10
Garlic Chilli Korai King Prawn
Fairly hot, cooked with whole green chilli, garlic & coriander
Fairly hot
£9.10
Rezala Chicken
A fairly hot dish, cooked with spring onions, peppers, jalapenos, green chillies & spicy masala sauce
Fairly hot
£6.80
Rezala Chicken Tikka
A fairly hot dish, cooked with spring onions, peppers, jalapenos, green chillies & spicy masala sauce
Fairly hot
£6.90
Rezala Lamb Tikka
A fairly hot dish, cooked with spring onions, peppers, jalapenos, green chillies & spicy masala sauce
Fairly hot
£7.10
Rezala Beef
A fairly hot dish, cooked with spring onions, peppers, jalapenos, green chillies & spicy masala sauce
Fairly hot
£6.90
Rezala Prawn
A fairly hot dish, cooked with spring onions, peppers, jalapenos, green chillies & spicy masala sauce
Fairly hot
£6.90
Rezala Vegetable
A fairly hot dish, cooked with spring onions, peppers, jalapenos, green chillies & spicy masala sauce
Fairly hot
£5.80
Rezala Mixed Tikka
A fairly hot dish, cooked with spring onions, peppers, jalapenos, green chillies & spicy masala sauce
Fairly hot
£7.10
Rezala King Prawn
A fairly hot dish, cooked with spring onions, peppers, jalapenos, green chillies & spicy masala sauce
Fairly hot
£9.10
Jaipur Raj Chicken
A mixture of jalapenos, spring onion, ginger, tomatoes & a touch of chilli
Fairly hot
Gluten
£6.80
Jaipur Raj Chicken Tikka
A mixture of jalapenos, spring onion, ginger, tomatoes & a touch of chilli
Fairly hot
Gluten
£6.90
Jaipur Raj Lamb Tikka
A mixture of jalapenos, spring onion, ginger, tomatoes & a touch of chilli
Fairly hot
Gluten
£7.10
Jaipur Raj Beef
A mixture of jalapenos, spring onion, ginger, tomatoes & a touch of chilli
Fairly hot
Gluten
£6.90
Jaipur Raj Prawn
A mixture of jalapenos, spring onion, ginger, tomatoes & a touch of chilli
Fairly hot
Gluten
£6.90
Jaipur Raj Vegetable
A mixture of jalapenos, spring onion, ginger, tomatoes & a touch of chilli
Fairly hot
Gluten
£5.80
Jaipur Raj Mixed Tikka
A mixture of jalapenos, spring onion, ginger, tomatoes & a touch of chilli
Fairly hot
Gluten
£7.10
Jaipur Raj King Prawn
A mixture of jalapenos, spring onion, ginger, tomatoes & a touch of chilli
Fairly hot
Gluten
£9.10
Lime Tandoori Chicken
Using chilli, coriander, garlic, ginger, onions, runner beans, potatoes & olives
Medium
£6.80
Lime Tandoori Chicken Tikka
Using chilli, coriander, garlic, ginger, onions, runner beans, potatoes & olives
Medium
£6.90
Lime Tandoori Lamb Tikka
Using chilli, coriander, garlic, ginger, onions, runner beans, potatoes & olives
Medium
£7.10
Lime Tandoori Beef
Using chilli, coriander, garlic, ginger, onions, runner beans, potatoes & olives
Medium
£6.90
Lime Tandoori Prawn
Using chilli, coriander, garlic, ginger, onions, runner beans, potatoes & olives
Medium
£6.90
Lime Tandoori Vegetable
Using chilli, coriander, garlic, ginger, onions, runner beans, potatoes & olives
Medium
£5.80
Lime Tandoori Mixed Tikka
Using chilli, coriander, garlic, ginger, onions, runner beans, potatoes & olives
Medium
£7.10
Lime Tandoori King Prawn
Using chilli, coriander, garlic, ginger, onions, runner beans, potatoes & olives
Medium
£9.10
4 Course Set Meal
Available Sunday - Thursday ONLY!
Onion salad, mint sauce & 1 poppadom
Choose any starter
Choose any main
Pilau rice or plain naan
Extras available
£10.50
Chicken Tikka Meal
Tender breast of chicken
Mild
£8.10
Lamb Tikka Meal
Marinated lamb
Mild
£8.10
Tandoori Chicken Half Main
Mild
£8.10
Tandoori Mixed Grill
Consists of all above
Medium
£8.50
Tandoori King Prawn Main
Bengal king prawn grilled over charcoal & onions
Medium
£10.50
Contact Us
Find Us
560 Beverley Road, Hull, HU67LG
We deliver to
HU1, HU16, HU17, HU2, HU3, HU4, HU5, HU6, HU7, HU8, HU9